Milwaukee Failure To Diagnose Lawyer
MILWAUKEE FAILURE TO DIAGNOSE ATTORNEYS ARE ON YOUR SIDE
PUT A TRUSTED WISCONSIN ATTORNEY ON YOUR SIDE TODAY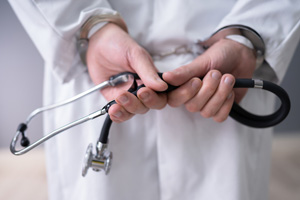 Early detection and treatment of certain progressive diseases can make a difference in recovery. Individuals of all ages are encouraged to visit the doctor for annual checkups, and it is recommended that certain patients, especially those in high-risk groups, schedule preventative screenings for diseases such as colon cancer, which exhibits few outward symptoms in its initial stages. But what happens when a patient with such a progressive illness is given a clean bill of health, even after undergoing tests and examinations which should have discovered the problem—or when a doctor decides such testing isn't warranted?
At the law office of MacGillis Weimar LLC, our knowledgeable Milwaukee failure to diagnose attorneys have more than twenty years of combined experience confronting doctors, HMOs, and other healthcare providers that, for a variety of reasons, have failed to diagnose serious, often deadly illnesses, causing irreparable patient harm or death.
WHAT CAN CAUSE A DOCTOR TO FAIL TO DIAGNOSE A SERIOUS CONDITION?
While some diseases are inherently more difficult to accurately diagnose than others, and while certain symptoms or health issues can indicate a wide variety of medical problems, there exists a network of medical professionals within the state of Wisconsin which, in theory, should provide more than adequate resources to any doctor stumped by the complaints of a particular patient. Yet many complaints of failure to diagnose, as well as claims of misdiagnosis or delayed diagnosis, tend to arise from far more fundamental treatment errors by healthcare professionals, such as:
Failure to inquire into the patient's medical history, genetic background, personal habits, or any other reliable indicators of increased susceptibility to a particular disease or condition
Failure to order proper tests
Failure to properly interpret test results.
Failure to recognize reported symptoms
Failure to diagnose can even be willful on the part of a doctor, such as when a doctor fails to disclose an injury sustained by a patient during surgery, in an effort to delay or avoid a malpractice claim resulting from that injury.
WHAT KIND OF INJURIES CAN RESULT IN THE WAKE OF A DIAGNOSIS ERROR?
Besides an obvious issue such as pain and suffering caused by ongoing and untreated symptoms, new problems can develop in undiagnosed patients, such as:
The spread of undiagnosed cancer into surrounding tissue and organs
Non-treatment of other progressive disorders, such as diabetes, pneumonia, or infection
Birth injuries to both infant and mother can often be prevented through proper prenatal examinations intended to prompt alternative delivery methods (such as cesarean section)
Undiagnosed conditions sustained during accidents such as acute compartment syndrome or a traumatic brain injury can cause loss of limbs, brain damage, and even death.
Psychiatric mistakes in which a professional that fails to recognize or report legitimate threats to public safety posed by a mentally ill patient
In the absence of a diagnosis from a doctor, other medical personnel are unlikely to acknowledge any independent speculation about a patient's condition. Health Maintenance Organizations (HMOs) are particularly likely to blame the patient for any failure to diagnose, claiming that it is the obligation of the patient to provide relevant information to his or her doctor in order to make a proper diagnosis.
Don't hesitate—A skilled Milwaukee failure to diagnose attorney is ready to fight back on your behalf
Given the types of defense tactics on the part of doctors and HMOs, as well as the complexity of mounting a case in the state of Wisconsin, it is important to seek out our aggressive, dedicated attorneys as quickly as possible after getting a proper diagnosis. At the law offices of MacGillis Wiemer LLC, our team of experienced Wisconsin malpractice attorneys take on negligent healthcare providers and battle for your rights. For a free initial consultation, we urge you to contact us online or call now at (414) 727-5150.