Milwaukee Construction Accident Lawyer
MILWAUKEE CONSTRUCTION ZONE ACCIDENT ATTORNEYS COMMITTED TO MAKING AREA ROADS SAFER
POORLY PLANNED ROADWORK AND CONFUSING SIGNAGE CAN BE A RECIPE FOR DISASTER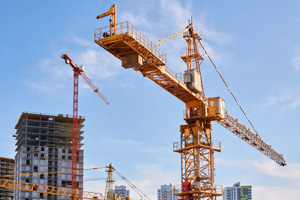 The Badger state is home to many ongoing road construction projects, some of which seem to threaten becoming permanent features of the landscape. Wisconsin drivers must recognize, however, that driving through a construction zone can be more than simply annoying—it can be dangerous, even deadly. Accident data indicates that approximately four construction zone accidents occur on Wisconsin roads each day. Sometimes these accidents are the fault of drivers who ignore posted reduced speed limits, drivers that are under the influence of drugs or alcohol, drivers distracted because of cell phone use, or fatigued drivers. However, many other accidents are the result of negligent road work
At the Milwaukee law firm of MacGillis Wiemer LLC, our experienced Milwaukee construction zone accident attorneys have helped countless area residents recover damages in all types of auto accidents and collisions, including accidents caused by dangerous construction zone conditions, and we aggressively pursue contractors and road crews who negligently set unsafe construction zones that injure unwitting drivers.
WHAT SAFETY STANDARDS MUST A WISCONSIN ROAD CONSTRUCTION PROJECT MEET?
Because ongoing road work is also considered a workspace by the Occupational Safety and Health Administration (OSHA), general contractors already must meet federal guidelines intended to prevent injuries to their employees. Reducing the speed limit in construction zones—and doubling the speeding fine when a driver is ticketed for speeding in a construction zone—has played a role in reducing highway construction worker fatalities. Wisconsin drivers should know that any moving violation—not just speeding—occurring in any construction zone within the state can result in doubling the fine, regardless of whether a sign is posted at the site warning drivers of this law.
However, inadequate or confusing construction zone signage also causes many construction zone accidents when:
Signage fails to adequately indicate lane changes, particularly when more than one parallel lane is being redirected
Signage on freeways or highways fail to indicate significant, sudden, and necessary reductions of speed—from 55 to 25, for example
Signage fails to warn drivers of an uneven road or other defects in the road surface
Confusing construction signage, particularly near freeway entrance and exit ramps, have led to deadly wrong-way collisions
Lack of adequately visible construction zone signage
Finally, a construction zone accident can be caused by the misuse of tools and equipment, or the unsafe operation of a truck or crane, by construction site workers.
IF YOU HAVE BEEN INVOLVED IN A CONSTRUCTION ZONE ACCIDENT, WHO CAN YOU SUE?
Sometimes it can be confusing to determine exactly what party involved in a road construction project is responsible for an accident. Depending on the exact cause, the negligent party may be a general contractor, a sub-contractor, or even the state of Wisconsin; the accident may have occurred due to the negligence of a highway worker, a manufacturer of materials or equipment, or the designer responsible for creating the road improvement plan. Finally, as mentioned, construction site accidents can also often the fault of careless, intoxicated, fatigued or distracted drivers.
In all such instances, our skilled Milwaukee construction zone accident attorneys have the knowledge and resources to investigate the exact circumstances of each individual accident, establish all relevant driving factors and identity of each party involved, in order to recreate and analyze the accident to both determine negligence and to effectively pursue compensation for your injuries through negotiation or litigation.
Injured Wisconsin motorists are entitled to be compensated for damages following an accident, such as:
The cost of past medical expenses as well as the cost of projected future medical needs
Lost wages or income
Damages for pain and suffering caused by the injury
Damages for any loss of capacity which affects potential future earnings
In addition, the families of drivers killed in a construction zone action are entitled to pursue a claim of wrongful death against the negligent party on behalf of their loved one.
TRUST OUR SKILLED MILWAUKEE CONSTRUCTION ZONE ACCIDENT ATTORNEY TO PROTECT YOUR RIGHTS
At MacGillis Wiemer LLC, our experienced Milwaukee construction zone accident attorneys have helped victims suffering injuries in all types of accidents. We remain committed to helping clients and families fight back against dangerous construction zone negligence. If you have been injured in an accident occurring in a construction zone, we encourage you to contact us online or call our office today at (414) 727-5150 for a free consultation.