Milwaukee Pedestrian Accidents Attorney
RELIABLE PEDESTRIAN ACCIDENT ATTORNEYS IN MILWAUKEE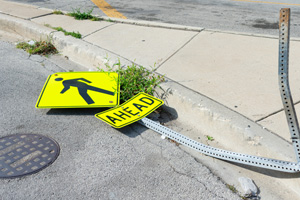 One is a 4,000 pound machine made of metal, and the other is a 100 to 300 pound human made of flesh and bone — one stands little chance against the other if the two were to collide. When an accident happens, seek help from a Milwaukee pedestrian accident attorney right away.
HIT-AND-RUN AND OTHER PEDESTRIAN ACCIDENT LAWYERS
In Wisconsin, this scenario is played out far too often as innocent pedestrians suffer serious injuries after being struck by cars, trucks and other vehicles. At MacGillis Wiemer, LLC, we are experienced, dedicated injury lawyers who work hard to protect the rights of injury victims throughout the Wisconsin area. We invite you to contact our firm for a free consultation if you or a loved one was seriously injured by a distracted, drunk or otherwise negligent driver.
Our firm can be reached by calling toll free at or by contacting our Milwaukee, Appleton, or Hartford law office online.
COMMON PEDESTRIAN ACCIDENTS
No two crashes involving unsuspecting pedestrians are the same, but many involve similar scenarios where individuals are put at risk by negligent drivers. Such scenarios include:
Crossing an intersection where a driver fails to yield the right of way (crosswalks)
Being struck while on the sidewalk
A driver striking a bicycle sharing the road
Children being struck while playing in the street
A driver speeding in unsafe conditions
A driver who disobeys traffic signs/signals
A driver who is under the influence of drugs or alcohol
At MacGillis Wiemer, LLC, we carefully investigate every aspect of your accident to determine fault and to determine how much compensation you might be able to receive. If you were in bicycle accident that involved a vehicle, our Milwaukee car accident lawyers can assist you. We will not stop until we are confident that we have secured the best possible outcome that will help you put your accident behind you.
CONTACT OUR MILWAUKEE PEDESTRIAN ACCIDENT ATTORNEY
Potential clients can schedule a free initial consultation with our firm by calling 414-727-5150. You can also reach us online. All communications between our law firm and potential clients remain entirely confidential.