Milwaukee Bicycle Accident Lawyer
Experienced Bicycle Accident Attorneys Serving Milwaukee and Surrounding Areas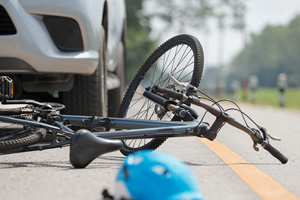 "I didn't see the bicyclist". This is the defense usually used by car drivers after a collision with a cyclist. Well… they can now clearly see the hapless bicyclist sprawled out on the road in front of their vehicle.
Cyclists are more at risk of accidents due to the aggression and inattention of the other vehicles. The fact that bicycles don't have physical protection makes their injuries more severe and devastating after a collision involving a car accident or truck accident.
If you or your loved one have been involved in an accident with other motorists which leaves you injured. Do not hesitate to contact our Milwaukee bicycle accident lawyer to represent you and make sure the damages done to you or your bicycle is adequately paid for.
What to do after a bicycle accident
The first thing you should do after an accident is to get treated. If the case is serious, you're most likely to regain consciousness in a hospital ward, with bandages and plasters in numerous unimaginable places.
If you find yourself in this sad critical condition, you can get your loved ones to help you with getting important documents and information. You should try to get a copy of the accident report. Often, police officers give a contrary opinion as to who caused the accident. Should it happen that the police officer omitted a crucial detail or made a mistake, go to the police station and submit a revised edition of the report.
It is important to get as much information as possible and also preserve physical evidence.
Are there any time limits?
Yes. The same laws which apply to other vehicles regarding personal injury claims also apply to bicycle accidents. The general rule under Wisconsin law is that you must file your claim before the expiration of three years. There are exceptions in the case of minors and where the accident occurs outside the state.
What is the Comparative negligence rule in Wisconsin?
After a bicycle accident in Wisconsin, the party at fault ultimately pays for the damages of the injuries and suffered loss. If both parties were partially at fault, it means that you and the other party may still be able to recover damages for your losses.
But if your fault in the cause of the accident is over 50 percent, then you are not entitled to sue for damages. Put simply, if you have 51 percent fault in the crash, you are not entitled to any financial damages.
How do I recover fair compensation for injuries caused to me?
In the state of Wisconsin, a bicycle is categorized as a vehicle. Therefore, the same laws of the road which regulate car accidents also relate to bicycle accidents as well, with few exceptions.
In addition, rules which particularly apply to bicycles are that :
Cyclists have to ride in the same direction as other traffic
Cyclists have to ride at the right-hand edge
Keep a space of three feet between their bicycle and traffic or parked cars
Also, motorists are not allowed to drive in bike lanes, an exception is where they are entering or exiting a driveway.
Perhaps, a feature of bicycle accidents that makes it distinct from other personal injury claims is that to lay claim to negligence in a bike accident case, you must suffer an injury. Usually, the cyclist is injured severely.
There are other laws particular to bicycle users and it is advisable you consult the services of an experienced bicycle accident lawyer to take you through recent laws. Furthermore, if you file a claim for a bicycle accident, you will also need a bicycle accident lawyer. There is usually the issue of who was at fault in bicycle accident cases. The Insurance company would always want to make the fault entirely yours to avert liability.
An experienced Milwaukee bicycle accident lawyer will ensure you get proper compensation. Even in contributory fault cases.
Choose a Milwaukee Bicycle Accident Lawyer Today
We understand how vulnerable a cyclist is on the road compared to other drivers being that they have to share the road as well as dealing with other inherent dangers that can be present on all major roads. When an accident occurs, we want to protect your rights as a road user and ensure you recover the proper compensation for any loss suffered. Contact us today for help in dealing with overbearing insurance companies.