Milwaukee Neck and Back Injury Lawyer
Neck and Back Injury Attorneys Serving Those in Milwaukee, WI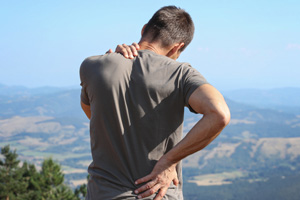 Statistics have shown that more than one million back injuries are sustained in the workplace annually. One in every five injuries in the workplace is a back injury. When you suffer a neck and back injury, the impact on your mobility and quality of life can be severe and last for a long time.
If the injury was as a result of the negligence of another party, you may be able to hold said party responsible. Our experienced trial attorneys at MacGillis Wiemer stand ready to help you pursue just compensation for your injuries. If you or your loved one has suffered a neck or back injury, do not delay in reaching out to us and let us help you pursue a personal injury claim.
Common causes of neck and back injury
Neck and back injuries can occur for a lot of reasons. However, some activities, occurrences and professions increase the chances of sustaining neck and back injuries. Some of them include the accidents below.
Automobile accidents
This includes accidents involving bicycles, motorcycles or pedestrians struck by vehicles. These accidents are responsible for many serious head and neck injuries as the impact of the accidents can cause a violent jerking of the head and neck. This can lead to serious injuries with devastating, long-term consequences.
An example of such injury is Whiplash which is an injury to the neck, caused by the rapid forward and backward motion of the head. It occurs mostly from car accidents though it can also be sustained during sporting activities. It is important to note that the symptoms of whiplash may not present immediately after the accident. A person may not feel stiffness and pain in the neck until after twenty-four or even forty-eight hours.
This is why it is important to seek medical attention and keep proper records when you or your loved one is involved in an accident. The medical records together with your records will make it easier to file a lawsuit if the accident was as a result of another party's negligence.
Sporting activities
Sporting activities like football, ice hockey, rugby, wrestling, skiing, swimming, diving, surfing, power weightlifting and horseback riding have recorded a high occurrence of neck injuries such as fractures and broken necks.
Slip and fall accidents
Slip and fall accidents can result in severe neck and back injuries whose impact may be felt for a long time or even a lifetime.
Work-related accidents
Some professions by their nature pose a high risk for neck and back injuries. This notwithstanding, it behooves employers in such professions to ensure the safety of their employees. If you or your loved one has suffered a neck or back injury at work as a result of the negligence of your employer, you can hold them liable for your injury.
Our Milwaukee Neck and Back Injury Lawyer Can Be Of Help
At MacGillis Wiemer LLC, our attorneys are experienced in litigation matters. They possess the seasoned legal judgment you need when fighting for your legal rights. Having tackled many of these issues several times, they have amassed considerable experience in understanding when litigation offers the best chance of resolving legal matters. It is this valuable experience in addition to our hallmark 1-to-1 style of providing legal guidance we bring to bear when we take on your case.
If you or your loved one has suffered a neck or brain injury, reach out to us through our contact page today to schedule a free initial consultation.