Milwaukee Emergency Room Errors Attorney
MILWAUKEE MALPRACTICE ATTORNEYS HOLD NEGLIGENT HEALTHCARE PROVIDERS ACCOUNTABLE FOR EMERGENCY ROOM ERRORS
WE WORK HARD TO HELP INJURED VICTIMS FIND JUSTICE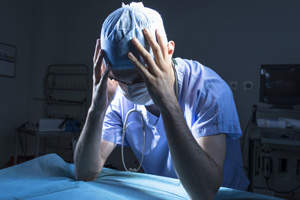 When an emergency room visit becomes not only necessary but crucial, the person in need of treatment is almost always admitted to the closest hospital. There is often simply no time to spare in order to consider the merits of all available medical facilities. As a result, the quality of care that an emergency room patient receives can simply boil down to luck; where did that patient happen to be located when he or she was struck down by the injury or sudden illness?
While all emergency rooms in the state of Wisconsin strive to employ trained healthcare professionals and provide the highest possible quality of care, a strong possibility remains that a mistake might be made during treatment—and that a patient's condition may worsen as a result. At the law office of MacGillis Wiemer LLC, our skilled attorneys aggressively pursue justice on behalf of clients who have been injured as the result of preventable mistakes made by emergency room workers.
WHAT KIND OF EMERGENCY ROOM ERRORS CAN INJURE A PATIENT?
Doctors, nurses, paramedics, and technicians—all medical personnel comprising the staff of a modern Wisconsin emergency room are highly trained in the type of specialized care needed to stabilize and treat patients in need of immediate medical attention. Time is often a critical factor in the effectiveness of treatment, as is the judgment and skill of the emergency room staff, and when the necessary standard of care for such emergency treatment is not met, patients often suffer injury or death as a result. Common types of mistakes include:
Delay of treatment or delay of diagnosis—this can be serious if the patient has a brain aneurism, appendicitis, or is bleeding internally
Misdiagnosis—Unnecessary treatment can sometimes be dangerous—and delay the provision of necessary treatment
Failure to diagnose serious injuries—Progressive injuries such as concussions or acute compartment syndrome, which can be overlooked during a cursory examination, must be swiftly diagnosed and treated
Patient dumping—this occurs when an emergency rooms denies or delays treatment based the patient's perceived ability to pay for treatment
Medication errors—this can include administration or prescription of the wrong medication or an improper medication dosage
Injuries resulting from improper patient movement—this can occur as within the operating room as well as during ambulatory transport
When mistakes like these happen, patients can suffer additional injuries ranging from infection and disease to brain damage, paralysis, loss of limbs, and even death.
WHAT KIND OF DAMAGES CAN I RECOVER?
Emergency room error is subject to a special burden of proof. A plaintiff must not only prove that they were injured as the result of an emergency room error made by a health care provider, but that the error in question breached the standard of care owed to the plaintiff as measured against the skill, care, and judgment that another emergency room would have provided under similar circumstances.
However, a plaintiff proving that their injury was caused because of emergency room treatment falling short of this standard is eligible to recover damages such as:
The cost of all medical expenses needed to treat the injury, including all projected future expenses
Lost income or wages, both past and anticipated.
Loss of future earning capacity
Pain and suffering, including emotional distress
Close family members, such as spouses or children of the injured plaintiff, can also receive compensation for loss of parental support or loss of companionship.
Because of the added burden of establishing the reasonable standard of care, these complaints always require the use of medical experts to provide analysis and opinion testimony regarding the injury and the standard of care.
Put the resources of a dedicated Milwaukee emergency room errors attorney on your side
If you, or someone you love, has suffered injury due to an emergency room error, the experienced Milwaukee malpractice attorneys at MacGillis Wiemer LLC have exclusive access to some of the top medical experts in the Badger State. Together, we analyze your medical records, isolate those instances in which the care you received fell below a reasonable standard of care, and effectively present your case to a judge and jury to allow them to understand the devastating impact your injury has had on the lives of you and your loved ones. To learn more, and for a free initial consultation, contact us online, call us at (414) 727-5150, or visit our office.