Milwaukee Distracted Driving Attorney
DISTRACTED DRIVING LAWYERS IN MILWAUKEE
MILWAUKEE INJURY ATTORNEYS: DISTRACTED DRIVING ACCIDENTS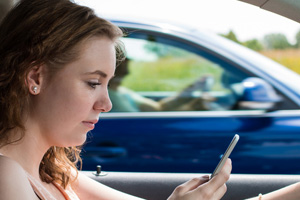 Distracted driving has become a recognized epidemic. Between texting and using the cellphone, more and more drivers simply are not paying attention when they drive, with catastrophic results for innocent victims especially when larger vehicles are distracted while driving that could result in something like a truck accident or car accident.
The life-changing injuries caused by distracted driving results in many clients throughout Wisconsin turning to our law firm for help. They know that MacGillis Wiemer, LLC, has more than a decade of combined experience in helping clients protect their rights when they have been injured.
Often, distracted driving is not something that is immediately apparent to clients. For that reason, we work closely with our clients to investigate these cases for ourselves in order to establish that distracted driving has indeed occurred.
We make it our job to pursue justice for clients who have been injured by distracted drivers. This means our Milwaukee car accident attorney will work diligently to provide our clients with the access to financial resources that they need in order to meet the often burdensome costs and expenses they now face because of their injuries.
Our attorneys hold the seasoned legal judgment that can allow them to anticipate the strategies used by opposing attorneys. They also provide clients with the benefit of their experience with respect to determining which arguments a court might find most persuasive given the specific circumstances of a client's situation.