Hartford Slip and Fall Injury Lawyer
Skilled Slip And Fall Attorneys Serving Hartford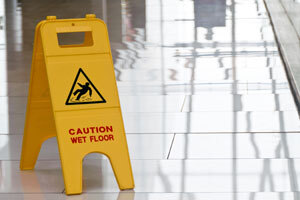 An unexpected slip is embarrassing enough in public places, but it can be downright unpleasant when it results in pain or injury and was caused by the negligence of another person. In Hartford (WI), a slip and fall claim can be filed against any property owner or manager if they are at fault for an injury sustained on their property. You should not have to turn the other cheek at broken bones, dislocated joints, or neck and back injuries that could have been avoided had someone taken the proper and necessary care. The highly experienced Hartford slip and fall injury lawyer at MacGillis Wiemer, LLC is available to invest their considerable skill and experience in proving this in court.
To obtain a deserved remedy, it is not enough to simply show that you were injured as a result of a hazardous condition. You must also show that the defendant knew – or at the very least, should have known – of the hazardous condition, but failed to take steps to correct it.
Proving Liability In A Slip And Fall Accident
In Hartford, like in all of Wisconsin, there are two different avenues to recovery for people injured in slip and fall incidents. They can either make a claim under common-law theories of negligence or file a lawsuit based on a violation of Wisconsin's Safe Place Law. For the former, it is not so much about showing that the plaintiff was injured as because of a hazardous condition, as it is about showing that the defendant knew – or at the very least, should have known – of the hazardous condition, but failed to take steps to correct it.
The rationale is that property owners and possessors have a duty to ensure that their premises are not unreasonably dangerous. And if they fail at this duty, they may be held liable. Proving negligence under this law requires proving that:
A dangerous condition was present on the premises
The owner or caretaker had (prior) actual or constructive knowledge of the condition
The owner or occupier failed to take steps to either remove the condition or warn the public about its existence
Under Wisconsin's Safe Place law, which applies to places of employment generally, employers and owners of public buildings have a strict duty to ensure that their properties are as safe as their nature would reasonably permit. Proving fault here is along the same lines as under the common negligence law.
Negligence Under Hartford Slip And Fall Laws
Wisconsin follows a comparative negligence system to determine the potential settlements of slip and fall cases. So, falling down on another person's property does not guarantee their liability. Rather, a plaintiff's possible damages depend on the extent to which he contributed to the accident. To prove negligence, it must be shown that there was a duty of care and it was breached, resulting in harm.
Whether or not a property owner was aware or should have known about the hazard, is often very hard to prove. But the chances of winning a fair settlement are higher where your claim is handled by an experienced slip and fall attorney.
Our Hartford Slip And Fall Injury Lawyer Can Help Secure Your Rights And Compensation
Let our dedicated and experienced Hartford slip and fall lawyers at MacGillis Wiemer, LLC fight on your behalf. We can help assess your case and decide the best course of action moving forward. If you would also like to learn more about your Hartford slip and fall case, schedule a free, confidential consultation with our attorneys today. Contact us now.