Hartford Premises Liability Lawyer
Skilled Premises Liability Attorneys Serving Hartford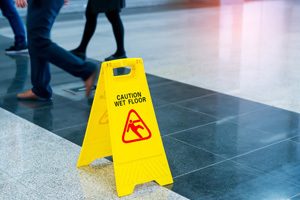 People suffer accidents and injury while on someone else's property just as much as –and possibly more than – they do while on their own such as a car accident, etc. Usually, the resulting injury leads them to seek some sort of remedy or compensation by contacting a Hartford Premises Liability Lawyer. Fortunately, Wisconsin law allows them to do so, albeit following strict regulations. As such, a large percentage of premises liability cases in Wisconsin are hotly contested. This is because a lot of the time, and because of Wisconsin's shared fault laws, there's enough posturing to go around on factors like contributory negligence, notice, control, tender, and the nature of the premises. So, for every claim by the plaintiff that certain premises were unsafe, there is an affirmative defense by the owner or occupier that the plaintiff should have been more careful in handling themselves.
Eventually, success in these claims will depend on the quality and experience of your legal counsel. At MacGillis Wiemer, LLC our Hartford premises liability lawyers are well experienced in pursuing these claims and know exactly how to win on your behalf.
Hartford (WI) Premises Liability Law
Premises liability cases in Wisconsin are mainly regulated by the Wisconsin Shared Fault (Comparative negligence), "Safe place", and tort laws. In the first instance, there is a legal duty on property owners in Wisconsin to protect anyone who enters their premises from an unreasonable risk of injury. This is done by keeping premises in good condition and rectifying dangerous conditions or shoddy construction before things drop on people, or make them a trip, slip, or fall. Many premises liability cases usually involve accidents resulting from:
Poor lighting
Wet or slippery floors
Cracked pavements
Slippery stairs
Debris and fire incidents
Improperly maintained public walkways
Negligent or Inadequate security
But the law also imposes a duty on visitors to the premises to behave responsibly, or risk forfeiting a legal remedy. So if the visitors are found to be more at fault for the incident, they won't be able to hold owners or occupiers of the premises liable. A "tort" is a wrongful act, and so tort laws and principles come into play where it is alleged that one party has fallen short of the standard of care he reasonably ought to have upheld.
Proving Liability And Determining Fault
Balancing these considerations mean that, in Wisconsin, plaintiffs are not absolved of the duty to use ordinary care for their own safety. So, you cannot recover damages by simply showing that you were injured on another person's property. You must at least be able to prove that the owner or holder of the premises:
Was negligent and caused the dangerous condition
Knew about this condition and did not correct it
Should have had reasonable knowledge that someone would get hurt
Wisconsin is also a modified comparative fault jurisdiction – so the extent of remedy you may get from a premises liability suit depends on your share of the blame. Typically, you cannot be more than 51% at fault, and be able to recover for your injuries under Wisconsin's comparative negligence law. And a jury will ultimately work under four considerations namely:
How the incident happened,
Whether the premises owner or occupier was at fault,
Whether the victim contributed in any way,
What quantum of damages is commensurate to the injury
Contact Our Experienced Hartford Premises Liability Lawyer For Help
Let our dedicated and experienced Hartford premises liability lawyers at MacGillis Wiemer, LLC help you recover the compensation you deserve. We can help assess your case and decide the best course of action moving forward. If you would like to learn more about your premises liability case, schedule a free and confidential consultation by visiting our offices at 384 W. Sumner Street Hartford, WI 53027, or contact us.