Hartford Motorcycle Accident Lawyer
Skilled Motorcycle Accident Attorneys Proudly Serving Hartford, WI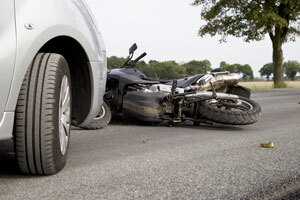 In 2018, there were about 5,100 motorcycle accidents in the United States. The vast majority of these accidents involved a collision with other vehicles, most frequently passenger automobiles. These accidents are often ghastly, resulting in severe injuries with life-altering or life-threatening potential.
If you or your loved one has sustained injuries in a motorcycle accident, reach out to our Hartford motorcycle accident lawyers to help you get the compensation you deserve.
Causes Of Motorcycle Accidents
Most motorcycle accidents happen as a result of human errors, either due to negligent or reckless driving. Some of the errors include:
Changing lanes without signaling or checking blind spots
Opening the car door of a parked vehicle in the path of an oncoming motorcycle
Driving at excessive speeds
Driving under the influence of drugs and alcohol
Driving between two lanes of traffic (called "lane-splitting")
Hitting the brakes suddenly
Tailgating
Right of way errors when making left turns
Injuries Sustained In Hartford Motorcycle Accidents
Injuries sustained from motorcycle accidents can be incredibly serious, and in many cases, life-threatening. They include the following:
Road rash – this is one injury that carries a deceptively mild look. If it is not treated properly, it can lead to a host of complications such as skin irritations, infections, surface nerve
damage, etc.
Facial fractures
Broken bones
Burns
Dislocations and limb amputations
Paralysis
Traumatic brain injuries
What To Do After A Hartford Motorcycle Accident
Ensure that you make a statement to the police when they arrive on the scene of the accident.
Once that is done, get the details of the other driver (contact address, phone number, and insurance provider).
Get medical help – do not refuse to be examined by the medical personnel who responded to the 911 call. After they have checked you, you might want to visit your doctor to get a second opinion.
Document all injuries you sustained and whatever damage happened to your motorcycle.
Hire a Hartford motorcycle accident attorney
Compensation To Expect In A Motorcycle Accident Liability Suit
Compensation also known as damages is categorized into two: economic and non-economic damages. Economic damages are paid to compensate for quantifiable expenses incurred as a direct result of your injuries. It is intended to cover costs like:
Medical expenses – past and future,
Lost wages due to your injuries,
Lifestyle changes due to your injuries such as setting up a hospice in your home
Payment for specialized care should your injuries warrant them
Payment for damage to your property
Non-economic damages compensate you for non-quantifiable things like your pain and suffering, emotional and psychological damage. You could also get compensated for the loss of consortium if your injuries prevent you from carrying out your marital duties with your spouse.
Another type of damages is Punitive damages. As the name implies, it is awarded when the jury determines that the defendant acted with malicious intent. The award is usually an exorbitant sum so named to punish the defendant and serve as a deterrent to other members of the public.
Contact A Professional Hartford Motorcycle Accident Lawyer
At MacGillis Wiemer LLC, our motorcycle accident lawyers are seasoned trial lawyers who have been fighting on behalf of our clients for years and with excellent results. Because we understand just how much you are suffering, we go all out to get you the justice you deserve. In deserving cases, we are able to work on a contingency basis – meaning you don't pay a cent unless we win for you. Call our office to schedule a free consultation and learn what options are available to you.