Hartford Bicycle Accident Lawyer
Skilled Bicycle Accident Lawyers Representing Communities In Hartford, WI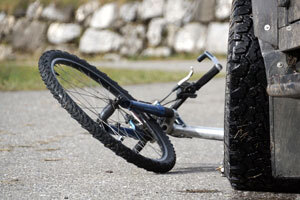 Statistics show that between 10 and 20 percent of bicycle accidents involve a motor vehicle. The liability for sixty percent of adult bicycle crashes can be placed on the drivers of motor vehicles. The design of bicycles makes it impossible for a bicyclist to be in a crash and leave the scene unscathed. The injuries can be anywhere from mild to severe and can even result in death.
Statistics further show that head injuries are the most frequent and devastating injuries bicyclists suffer when they collide with motor vehicles. The effect of these types of injuries is life-altering, not just for the victim of the accident, but for the victim's family too.
Their lives are forever changed and they have to find a way to adjust to their new normal. Adjusting to this new reality will require lots of resources emotionally, psychologically, and financially. That is why victims of bicycle accidents should not hesitate to hire a bicycle accident lawyer.
Common Causes Of Bicycle Accidents
Bicycle accidents can happen for various reasons. Most commonly, however, the following factors cause bicycle accidents in Hartford, Wisconsin:
The motor driver was not paying attention to the road due to a distraction
The motor driver was driving recklessly
The motor driver was going above the speed limit, thus unable to stop in time
The motor driver was driving under the influence of drugs or alcohol
Motor drivers have a duty of care to other road users to ensure they drive in a reasonably safe manner. Thus, if an accident happens because they were negligent in their duty of care, they may be held liable for the accident.
What To Do When You Have Been In A Hartford Bicycle Accident
Call 911 or have someone do it and wait for the police to arrive: You must get your version of events documented, thus, even if you think you are uninjured, wait for the police to arrive and take down your statement. Also, get the contact details of the other driver
Get medical help: You might be thinking of going straight home to just put a bag of frozen peas on the cut on your face. Don't do it. Call your family doctor or visit the nearest emergency room and get yourself properly checked out. You may be injured in some other places and not feel it immediately after the accident due to the adrenaline rush you experienced. A proper check-up will reveal them.
Keep a record of your personal injuries and damaged property: Take photographs of your injuries and ensure you get a corresponding doctor's report. If your bicycle or gear was damaged during the accident, keep a record of it as well. The records will come in handy when you make a claim for your injuries.
Hire a Hartford bicycle accident attorney: An experienced Hartford bicycle accident attorney will provide advice on how to proceed with your case and the best way to deal with insurance companies.
Our Hartford Bicycle Accident Lawyers Can Help You
At MacGillis Wiemer, LLC. we understand the effects of injuries like these on the lives of bicycle accident victims. We also understand the immense financial burden it places on the victims and their loved ones. That is why we hold nothing back when we fight for compensation for our clients. We have been doing it for fifty years and we have the requisite experience to get you the compensation you deserve for your pain and suffering. If you or your loved one has been injured in a bicycle accident, call a Hartford bicycle accident lawyer today. Contact us to help you get compensation for your injuries.