Hartford Nursing Home Abuse Attorney
Proficient Nursing Home Abuse Attorneys Serving Hartford, WI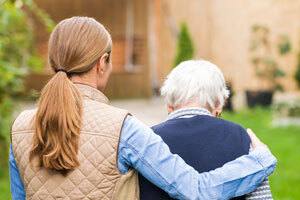 Mistreatment of seniors and the elderly is surprisingly common. It sounds very unlikely, but it happens and with frightening frequency. Entrusting the care and supervision of your elderly loved ones to caregivers should not come with the concern that your loved ones will be maltreated. Unfortunately, this is often the case, and nursing abuse can be very hard to detect and prosecute. Our Hartford nursing home abuse attorney knows what to look for as red flags in poor nursing care.
As a term, "nursing home abuse" is used to describe the maltreatment of seniors in caregiving facilities and settings. So it can take place not only in nursing homes but also in:
Retirement homes
Memory care facilities
Nursing facilities
Home care
In cases of home care abuse, a caregiver who comes to your loved one's home or your home can mistreat them in a place where they should be able to feel safe Unfortunately when elder abuse and neglect in these care facilities happen, it can be very difficult to spot. Because of their dynamic, seniors are vulnerable and are either too afraid to identify their abusers or are simply unable to do so.
However, our experienced Hartford nursing home abuse lawyers can help you with making a claim and ensuring the health and safety of your loved one. The information we provide to you will also help you know the types of nursing home abuse and what signs you should look out for. You can reach out to us for a free, no-risk consultation. Call (262) 457-9192 today.
Types Of Nursing Home Abuse
When you put your elderly loved one in a nursing home, you do so with the belief that you are getting them the best possible care. You expect that they are professionally cared for in a clean, structured, and safe environment.
It can, therefore, come as a terrible shock to find out that they are being abused in the nursing home. Usually, you find that they are suffering one or two of five – according to the CDC – types of abuse:
Financial abuse
Emotional abuse
Sexual abuse
Abandonment or neglect
Physical, verbal, and emotional abuse can be subtle or overt, but even the slightest abuse is reprehensible and punishable by law. Generally, nursing homes and care facilities have a duty to uphold the quality of care standards. Where they fail to do so, it amounts to actionable negligence, and the facility and its staff can be held liable.
Signs To Look For In Nursing Home Abuse
Suspicions of nursing home abuse can be easily missed, but they're often very clear when you are looking for them. That's how pervasive they can be, and the slightest abuse is inexcusable. The telltale signs of abandonment and neglect typically include malnutrition, bedsores, unsanitary living conditions, dehydration, terrible hygiene, and desertion in public places.
With physical abuse, the signs are more commonly spotted and include unexplained bruises, welts and scarring on wrists, and sensitive body parts. There's also over/under-medication, and a "giveaway" refusal by the caretaker to let you see the senior in question.
Emotional abuse will typically manifest in mental and physical signs. You see the victims withdrawn into themselves, nails bitten to stumps, incoherent mumbling and talking to themselves. Other signs include sex-sensitive problems like unexplained genital bruising, infection.
Contact Our Experienced Hartford Nursing Home Abuse Attorney
If you would like to sue for negligent or abusive nursing home elder care or learn more about your making a case; schedule a free and confidential consultation with our attorneys. Visit our offices at 384 W. Sumner Street Hartford, WI 53027 to schedule a consultation today. When you contact our attorneys, we will be here to listen, understand and act on you case.