Washington County Personal Injury Lawyer
Skilled Personal Injury Attorneys Serving Washington County, WI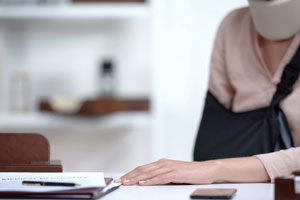 Have you ever been injured on the road or at work, but not because of your own fault? There come times when another person's actions lead to our injuries. During such times, you can file for a personal injury lawsuit to recover compensation for paying the expenses that arose due to the accident. Personal injuries include fractures, bruises, brain injuries, etc. When you experience these types of injuries, you will want a Washington County personal injury lawyer on your side.
With years of experience, our personal injury lawyers will analyze your case carefully, and make sure that you get compensation for the damages suffered. Clients across Wisconsin trust our skilled legal team and they know we fight fiercely for their rights to recover maximum compensation after a serious accident.
Types of personal injury cases in Wisconsin
Car Accidents: Car accidents are the most common Personal Injury cases. If you are injured in a car accident caused by another driver's carelessness, you have the ability to seek compensation for those injuries.
Motorcycle Accident: A lot of times bikers have to face serious dangers when riding on the roads due to the recklessness of truck drivers. Their recklessness results in accidents, which leads bikers to get injured or die. It is important for all the bikers to know that if you got injured during an accident, then you can claim for monetary compensation for your losses.
Pedestrian Injury: Under the rules of the road, it is the duty of truck drivers to look out for pedestrians, but still, there are thousands of pedestrians who get injured or killed in accidents on the roads.
Slip and Fall: Slip and fall injuries are very common, and they usually occur because of wet floors or defective stairs or conditions that would lead a person to get injured. These accidents take place because the owner of the property fails to perform his duty of care, which leads the persons visiting the property to slip and fall and get injured. In such cases, the victims can file a claim against the owner of the property who failed to perform their duty.
What sort of compensation can I get after an injury in Wisconsin?
After a devastating accident, you deserve compensation for the total of all the harm you suffered, including the disruption of your daily life and the stress of dealing with the aftermath. If you suffered serious injuries in an accident, you may be entitled to claim damages for:
Medical expenses (including bills, transportation, rehabilitation, and out of pocket expenses)
Lost earnings (including time spent unable to work and lost future earning potential)
Pain and suffering (including emotional turmoil, physical pain, and loss)
What is the Statute of Limitations for Personal Injury Cases?
Under the Statute of Limitations, a case for personal injury can only be filed by the victim within three years in Wisconsin. However, there are certain situations in which the limitation period would be shortened, which is why it is important to be vigilant when filing a personal injury lawsuit.
Let A Washington County Personal Injury Lawyer Assist You
If you or your loved ones got injured due to another person's negligence in Wisconsin, we recommend that you speak to our personal injury attorneys to analyze your case and provide you with the best legal remedies. Please get in contact with our lawyers immediately.