Washington County Car Accident Lawyer
Experienced Car Accident Attorneys Serving Washington County, WI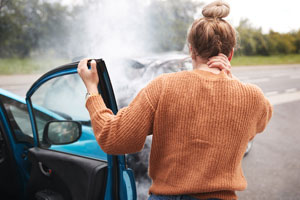 Car accidents take place every other day in Wisconsin and result in different levels of damages depending on the severity of the accident. There are various reasons that may lead to a car accident, but most of them take place due to the recklessness or negligence of a driver. When another driver is negligent, our Washington County car accident lawyer can help you.
If you were injured in a car accident due to the failure of another person to follow the rules of the road, and create a safe driving environment, then you should get in contact with our professional car accident lawyers in Washington County, Wisconsin.
Wisconsin Car Accident Laws
It has been observed that people immediately seek damages when they get injured in a car accident. In Wisconsin, you generally have to file suit for damages within 3 years of the accident. However, there are exceptions to this rule that make the time period shorter or longer.
For example, if you were in an accident involving a government worker or contractor, you have to file an intent to sue within 120 days or risk not being able to recover. Other exceptions involve the age of the person injured, when injuries were discovered, or whether death resulted from the crash. Our car accident attorneys will make sure that your case runs smoothly, regardless of how complicated the law gets.
Who would be liable?
Generally, the driver is responsible for the harm he or she causes. However, it may be more complicated if the driver was in a borrowed or rented car. If the driver was in a borrowed vehicle, you may need to make a claim against the vehicle owner's policy. If the driver was in a rental, you may need to make a claim against the rental car company's policy.
The at-fault driver may also be an employee of a business. If you were hit by an employee who was in a work vehicle while on the clock, then you may look to the business for financial recovery. However, if the accident involved a large commercial vehicle, then other parties such as loaders, etc. would also be involved in the case.
Can I get damages after a car accident?
Yes, a fair recovery would include damages to cover:
Medical expenses
Lost income
Pain and suffering
However, if you wish to receive compensation for these damages, then you will need to hire an attorney who will file a claim on your behalf in the court, and is well-experienced to help you fight a case that enables you to get a fair recovery for your injuries.
Motorist Insurance in WI
Under Wisconsin law, drivers are obligated to carry minimum car insurance, which includes the following liability coverage:
$25,000 for one person's injury
$50,000 for multiple people's injury
$10,000 for property damage
However, many drivers don't have insurance for their vehicles. Moreover, there are cases when the compensation provided by the other party would not fully cover your damages.
An Experienced Washington County Car Accident Lawyer Will Help You
If you or someone you know got injured in a car accident, and you want to get compensation for your injuries, then you should get in contact with our experienced lawyers in Washington County, Wisconsin.