Washington County Motorcycle Accident Lawyer
Experienced Motorcycle Accident Attorneys Serving Washington County, WI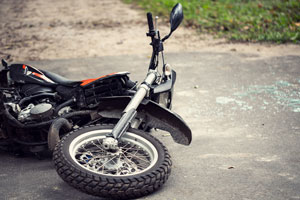 Riding a motorcycle is itself an adventure, and gives you a sense of freedom. Unfortunately, this freedom also comes with a high price. If you're involved in a motorcycle accident, chances are you're going to have serious injuries. Getting in touch with a Washington County motorcycle accident lawyer is the first thing that you should do after you get injured in a motorcycle accident.
A lot of times bikers get injured due to another biker's negligence. It is crucial for you to know is that you can take legal action against such bikers for their negligence, and get remedied through compensation that will cover your medical expenses, pain and suffering, lost wages, and other expenses related to the motorcycle accident.
Top Reasons for Motorcycle Accidents
On the downside, not many drivers give bikers the space they require to drive safely on the road, which leads to car crashes to take place. The vehicles are driving so closely that there is no chance for the bikers to stay safe in an accident. Furthermore, drivers under the influence of alcohol are a major threat to motorcyclists since they drive without focusing on the road, same is the case with people who use their phones while driving.
Motorcyclists are also more vulnerable to roadways defects than other drivers. Municipalities and other agencies responsible for roadway inspection and maintenance could be held for crash injuries caused by unfixed potholes, cracked pavement, or other obstacles on the roadway.
Motorcycle Accident Injuries
A motorcycle accident causes serious injuries. It is important to note that even small injuries such as bruises, rashes, etc. can be painful and cost a lot to treat. In addition to this, they can also put the injured person to bed rest, which means that he or she won't be working and earning money for some time. Furthermore, there are certain injuries which would make the victim not be able to return to work at all:
Brain damage
Spinal cord trauma
Internal bleeding
Nerve damage
Dismemberment
Organ damage
Motorcycle Accident Damages
In case you get into a serious accident, then you won't be able to leave your bed for a very long time and not walk or look after yourself. Injuries and conditions impacting the spinal cord or brain may leave a person fully or partially paralyzed, and in need of medical care for the rest of their lives. During this time, medical bills can start to rack up. If you want to obtain the compensation you need to pay your bills and maintain your lifestyle, our Washington County motorcycle accident lawyer may be able to help.
Wisconsin Motorcycle Accident Insurance Issues
Motor vehicle drivers in Wisconsin must carry minimum amounts of liability insurance coverage. So, if you are in an accident caused by a car or truck driver, then you should be able to file a claim with the at-fault driver's insurance company. Our lawyers will help you file the claim, and get a remedy for your injuries.
However, what happens if the driver has no insurance or has insurance that fails to cover all of your medical bills and other losses? Our lawyers will go over all the options available for you, including filing a claim for insurance. For instance, medical payments and/or uninsured motorist / underinsured motorist (UM/UIM) coverage may be available to you.
Get In touch with Our Washington County Motorcycle Accident Lawyer
If you or someone you know got injured in a motorcycle accident, then we would advise you to get in contact with our motorcycle accident lawyers in Washington County, Wisconsin, who are best known for attaining compensation for the clients for the injuries they suffered in the accident. McGillis Wiemer, LLC will always make sure to always keep our clients' needs at our top priority.