Danielle M. Schroder
PERSONAL INJURY ATTORNEY
Phone: (414) 727-5150
Fax: (414) 727-5155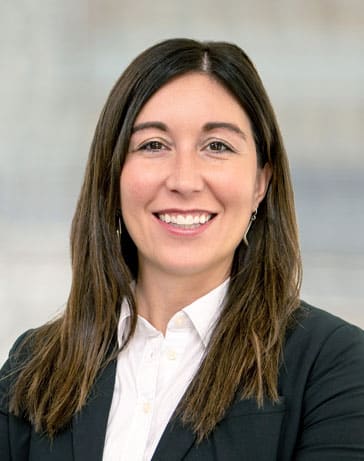 Danielle M. Schroder is a partner in the Madison office at MacGillis Wiemer, LLC. She practices exclusively in personal injury law, representing individuals who have been injured in car crashes and other circumstances that were not their fault.
Danielle has fully committed her legal practice to helping her clients recover from hardship and ensuring they get a fair shake when pursuing injury claims with insurance companies. She has successfully resolved various injury cases including car crashes, construction accidents, trip and falls, slip and falls, defective products and more. Danielle also serves as a guardian ad litem for minors who have been injured.
Danielle is an officer and board member of the Wisconsin Association for Justice (WAJ), the state's largest voluntary bar organization whose mission is to promote a fair and effective civil justice system by providing education and support for the trial bar profession and by working with government entities to advocate for the legal rights of all Wisconsin citizens. In 2022, Danielle served as Chair of the WAJ's Women's Caucus.
Danielle graduated magna cum laude from the University of Wisconsin Law School in 2011. During law school, she was a member of the mock trial team and the Wisconsin International Law Journal. She also was a member and coach of the Wisconsin Vis Moot Court team, which traveled to Vienna, Austria to compete against other law students from around the world.
Danielle cares deeply about the rights of her clients and works hard to ensure they are well-represented both in and out of the courtroom. She values her relationships with clients and understands that effective advocacy requires a keen command of both the facts and law associated with each unique case. Danielle has been recognized as a SuperLawyers "Rising Star" and a "Top 40 Under 40" with the National Trial Lawyers organization.
Danielle was born and raised in Wisconsin. Outside the office, she can be found with her husband, Mark, and their three kids, Gabby, Faith and Bryce. She enjoys running, biking, and snowboarding – just about any activity that gets her outside and her body moving. She and her family attend Blackhawk Church in Middleton.