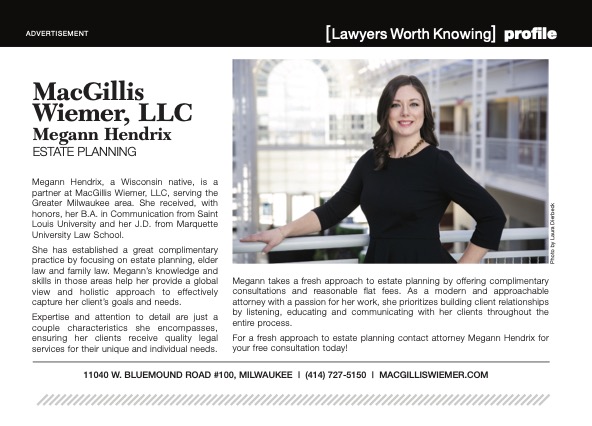 Megann Hendrix, a Wisconsin native, is a partner at MacGillis Wiemer, LLC, serving the Greater Milwaukee area. She received, with honors, her B.A. in Communication from Saint Louis University and her J.D. from Marquette University Law School.
She has established a great complementary practice by focusing on estate planning, elder law, and family law. Megann's knowledge and skills in those areas help her provide a global view and holistic approach to effectively capture her client's goals and needs.
Expertise and attention to detail are just a couple of characteristics she encompasses, ensuring her clients receive quality legal services for their unique and individual needs.
Megann takes a fresh approach to estate planning by offering complimentary consultations and reasonable flat fees. As a modern and approachable attorney with a passion for her work, she prioritizes building client relationships by listening, educating, and communicating with her clients throughout the entire process.
For a fresh approach to estate planning contact attorney Megann Hendrix for your free consultation today!