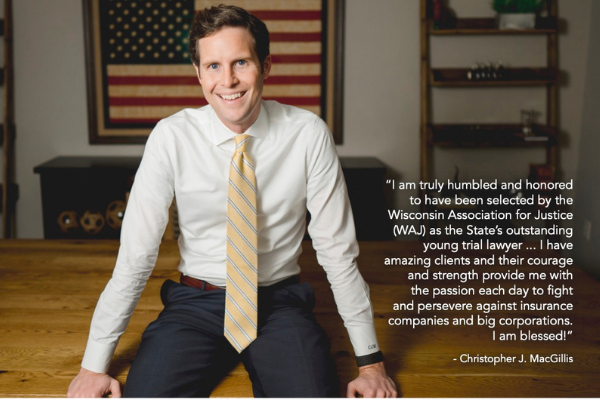 Christopher J. MacGillis
PERSONAL INJURY, FIRST RESPONDER LAWYER
Christopher J. MacGillis is a founder and partner at MacGillis Wiemer, LLC. Chris focuses his practice on personal injury and representing first responders, including police and firefighter unions. He represents those injured by the acts of others throughout the State of Wisconsin.
Chris has tried cases in both state and federal court. He prides himself on protecting his clients and working aggressively to obtain the best potential outcomes. Chris serves on the WAJ Board of Directors and currently serves as Regional Officer for District Six. Chris has authored several articles for the WAJ publication The Verdict and regularly speaks on current trends in law and litigation.
He has been selected as a "Rising Star" by Super Lawyers, a "Leading Lawyer" by M Magazine, and Top 100 Trial Lawyer by the National Trial Lawyers, amongst others.
Chris is extremely passionate about his clients and works hard to understand them as human beings.  In December of 2019, Chris and his team obtained a jury verdict in the amount of $175,000, which was over ten times the insurance company's last offer. Chris and his team worked with their client to explain to the jury why the car crash impacted him beyond just the "minor" scarring to his ear, as suggested by the insurance company.
Chris is a graduate of Marquette University Law School and Lawrence University. He is a life-long resident of Wisconsin and currently resides in Hubertus, Wisconsin with his wife, Ann, daughters, Gracie and Joey, and son, Owen.